The Poulton Project
Worldwide

[ Home ] [ Origins ] [ Domesday Book ] [ Distribution ] [ Links ] [ Resources ] [ Wills ] [ Family Trees ] [ Contacts ] [ Looking For.. ]
Distribution of a surname can indicate where a family have lived for many generations. Before the Industrial Revolution the average family seldom moved far and usually stayed "in their country". They would not normally move further than about 10 miles from their local market town. Using the FreeBMD website information for Births, Marriages and Deaths for the years 1837 to 1849 I have produced this distribution map of the Poultons. Even though the FreeBMD website is by no means complete the data shows quite clearly where the Poultons lived in the early 18th Century. There are pockets to the North in Durham and to the South in Devon, a large number in and around Lancashire, another grouping in South Staffordshire, a swathe from Gloucestershire across to Herfordshire, and another big pocket in Essex. By far the largest grouping is in Middlesex (London).
I believe this shows conclusively that the ancestors of the peoples of the villages of Poulton in Lancashire, Gloucestershire and Wiltshire were still living close to their village of origin for many hundreds of years. It may also prove the existence of villages called Poulton in Essex and even in Hertfordshire. The large group in London can be explained by the fact that people from across the country have been seeking their fortune here since Elizabethan times.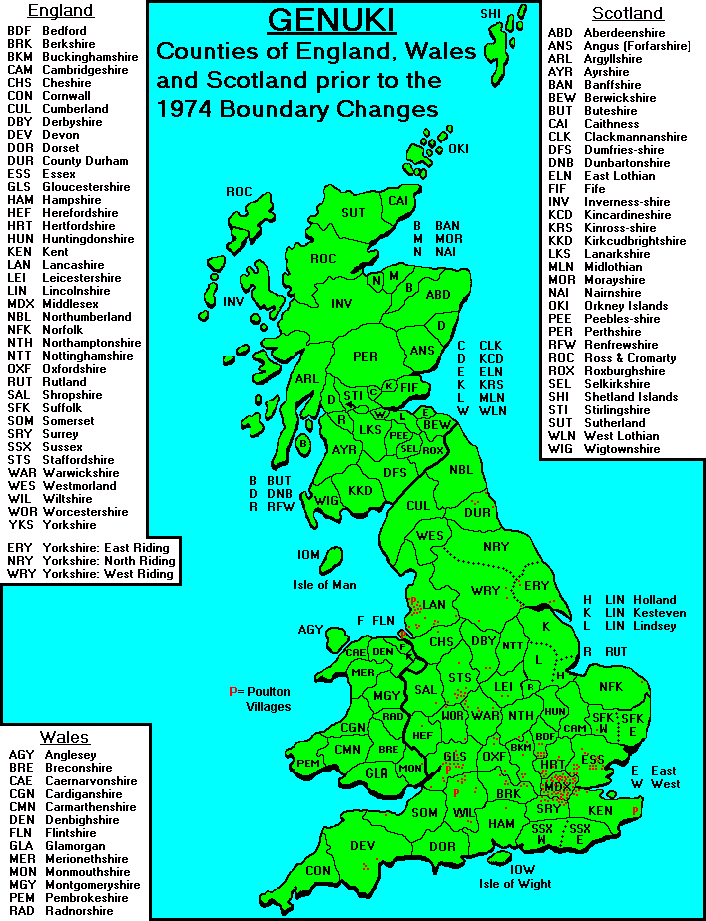 Another study that I have done of POULTON distribution (plus derivatives) in the counties of Oxford, Berkshire, Buckinghamshire, Bedfordshire & Hertfordshire using the International Genealogical Index is illustrated below:-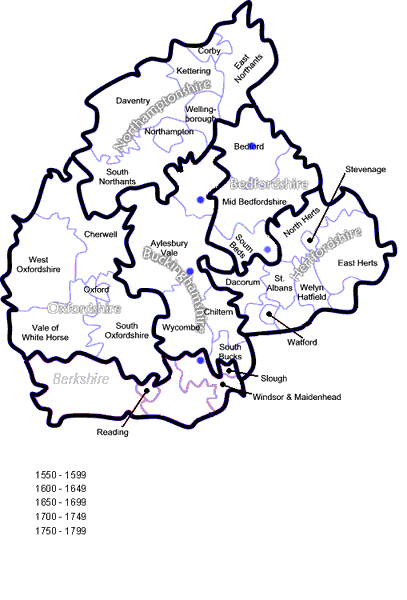 The animated graphic shows the spread across these counties from the mid 16th Century until the end of the 18th Century, and shows a definite migration from the area of Toddington in the county of Bedford.

Movement of the Poulton clan was not restricted just to the counties of England, Scotland & Wales. We also joined in the migration to colonies and outposts across the globe from the 16th Century onwards. The following individuals are amongst those early intrepid souls, and they are responsible for the spread of our name across the five continents.
Edward Poulton. A settler on Cuper's Cove, Newfoundland in 1612.
Thomas Poulton. A settler who left England in 1635 on the sailing ship Swallow bound for Providence Island in the Caribbean.
John Poulton, one of 4,000 settlers, who, with his wife Ann and family of 9 children, left England in 1820 bound for Grahamstown, South Africa, on board the sailing ship Hennersley Castle.
Ferdinand Poulton a Jesuit priest in Maryland, America in 1639.
Edward Poulton, who, with his wife Emma and family of 4 children, travelled to Queensland, Australia aboard the sailing ship Young Australia in 1865.
John Poulton, a veteran British soldier, who, with his wife Jane, 2 children, and around 150 others travelled to Van Diemen's Land (Tazmania) in 1826 in the sailing ship John Barry. More Info Here
William Poulton, aged 24 years, sentenced in Maidstone, Kent in 1830 & transported for 7 years to Port Jackson, New South Wales in 1831 in the sailing ship Georgiana 1.
John Gray, his wife Sarah and his 3 children plus 2 of Sarah's children from her first marriage, Henry William Poulton & Susanah Poulton. They sailed on the Sabrina from London to Australia in 1855.
Thomas Poulton a farm labourer from Wiltshire, only 18 years old, bound for South Australia in 1851. He survived the sinking of the Marion off the Troughbridge Shoal, in the English Channel. More Info Here
George Poulton sailed in the Sarah Sands from Liverpool in 1852 and arrived at Table Bay, Cape Town, South Africa on 6 November 1852. More Info Here