The Poulton Project
Worldwide

[ Home ] [ Origins ] [ Domesday Book ] [ Distribution ] [ Links ] [ Resources ] [ Wills ] [ Family Trees ] [ Contacts ] [ Looking For.. ]
Poulton?:-
The surname Poulton was probably given to individuals who came from the one of the many villages in Britain that are named Poulton. The word is simply the combining of the two Old English words Pol and Tun meaning Pool and Settlement or Enclosure. ie 'Settlement by the pool'. The 'ton' at the end of the name may signify whether it is a Saxon or Norman word.
Several places with the name of Poulton are referred to in Domesday Book. They are variously Pontone; Pulton; Poltone; Poltun; Poltune - English grammar education has never been good, then!
The list so far of Poulton towns and villages:-
POULTON-le-Fylde near Blackpool in Lancashire
POULTON-le-Sands, now part of Morecambe in Lancashire
POULTON-with-Fearnhead, on the east of Warrington. Lancashire
POULTON near Liverpool, Cheshire
POULTON cum Seacombe, now part of Wallasey in Cheshire
POULTON cum Spital, now part of Bromborough in Cheshire
POULTON Lancelyn, a hamlet in Poulton cum Spital
POULTON a hamlet in Pulford near Chester in Cheshire
POULTON a hamlet of Asterley in Shropshire
POULTON now part of Awre in Gloucestershire
POULTON near Cirencester in Gloucestershire
POULTON Priory in Gloucestershire
POULTON an ancient village, now part of Mildenhall near Marlborough in Wiltshire
POULTON Wood in Aldington, near Ashford in Kent
POULTON a village near Deal in Kent, which declined after the Dissolution of the Monasteries in the early 16th Century
POLTON near Edinburgh in Midlothian in Scotland
There are also over 3000 villages in the UK, deserted by their medieval occupants due to Black Death or marginal farming- some of these may have been called POULTON
Do you have any more?

The use of hereditary surnames was not usual until the time of the Norman Conquest, and in Britain it was those Normans who led the fashion for adopting their father's surname. There was a slow spread of the habit across the whole country over the next three centuries, until by the late fourteenth Century it was normal for every child in the land to take the family name of his or her father. This means that our surname (POULTON) is no more than 1000 years old, and many of your forebears did not take up the name until maybe the fourteenth century - only 700 years ago!

Early British Poultons include:-
William de Polton from Staffordshire in 1200
Richard de Poulton from Lancaster about 1250
Walter de Pulton from Gloucestershire in 1259
Walter de Polton, a subject of Edward 1st in 1292
John de Poulton, proctor of the Catholic Church of Lichfield in 1326
John Polton from Sussex in 1327
Robert de Pulton rector of Little Hampden Church, Buckinghamshire in 1377
Thomas Polton, Vicar of Blackford, Somerset up to 1408
Thomas Polton, Bishop of Hereford from 1420-1421
Thomas Poulton, Bishop of Worcester from 1425-1434
Thomas Pulton & his son William, Lords of the Manor at Kelmarsh in Northamptonshire, from 1481
Giles Polton (b.1460) of Desborough, Northamptonshire. - Daughter Anne Poulton born in 1486
Martin Poulton of Desborough, Northamptonshire, married in around 1555
William Powlton from Wiltshire in 1576
Francis Poulton (1572-1642), Lawyer at Lincoln's Inn and Steward of Isleworth, Twickenham, Middlesex in 1610
George & Simon Poulton of Sheepy Magna, Leicestershire in 1621
Thomas Poulton, Captain in the Royal Navy at the end of the 17th Century. Was killed at Portsmouth in a duel.
There were a number of Poultons who became Jesuit Priests. They include:-
Ferdinando Poulton (1536-1618), son of Giles Poulton and a catholic lawyer, who was linked to the Gunpowder Plot and who owned property in both Desborough, Northamptonshire and in Buckingham in 1600
Thomas Poulton (d.1637), was dimissed from the order in 1630 for "very indiscreet and libellous reflections on Cardinal Richelieu".
Charles Poulton, lived in the late 17th Century & descendant of Ferdinando (above), who was hounded by the authorities and eventually died for his religious beliefs
Andrew Poulton (1654-1710), worked in St Omer, Liège, London and St Germains. In 1690 he accompanied James II to Ireland as army chaplain.
Giles Poulton (1694 - 1752), studied in Rome and worked at Belgrave in Leicester and Plowdens in Shropshire.
William Poulton (1676 - 1726), studied in Rome and worked in Nottinghamshire.
Henry Poulton (1679 - 1712), worked as a missionary in Maryland, US.
Thomas Poulton (d.1725), worked in Ghent.
Thomas Poulton (1697 - 1749), studied in Rome and worked as a missionary in Maryland, US.

Gary Colquhoun, from Australia, has carried out some extensive research on the POULTONS of Cookham in Berkshire. Click here for his research

The Poulton Crest is An Anchor & Cable - Sable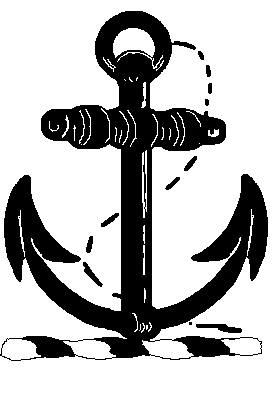 Source: British Crests: Containing The Crests And Mottos Of The Families of Great Britain and Ireland Together with Those Of The Principal Cities; And A Glossary of Heraldic Terms. (Google eBook) Alexander Deuchar 1817

The Coat of Arms is in the blue header bar at the top of the page, and is described as "Argent a fess sable between three mullets of six points sable"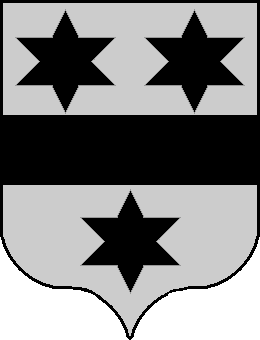 BEWARE: The College of Arms states that a coat of arms belongs to an individual, who is granted the arms personally, or is descended in the legitimate male line from someone who was. A coat of arms can only be used by one person, and in Scotland use by anyone else is a criminal offence!
On a more recent or modern note there are a number of internet domain names that contain the name Poulton. They are www.poulton.com, www.poulton.co.uk, www.poulton.net and possibly others.

Christian Names
Our ancestors often used the following naming procedure when picking out a name for a new child. This explains why certain names are VERY common in a given family line. Watching for these patterns can help in your genealogy research.
1st son = father's father
2nd son = mother's father
3rd son = father
4th son = father's oldest brother
5th son = father's 2nd oldest brother or mother's oldest brother
1st dau = mother's mother
2nd dau = father's mother
3rd dau = mother
4th dau = mother's oldest sister
5th dau = mother's 2nd oldest sister or father's oldest sister
Send me your POULTON contributions or theories:-